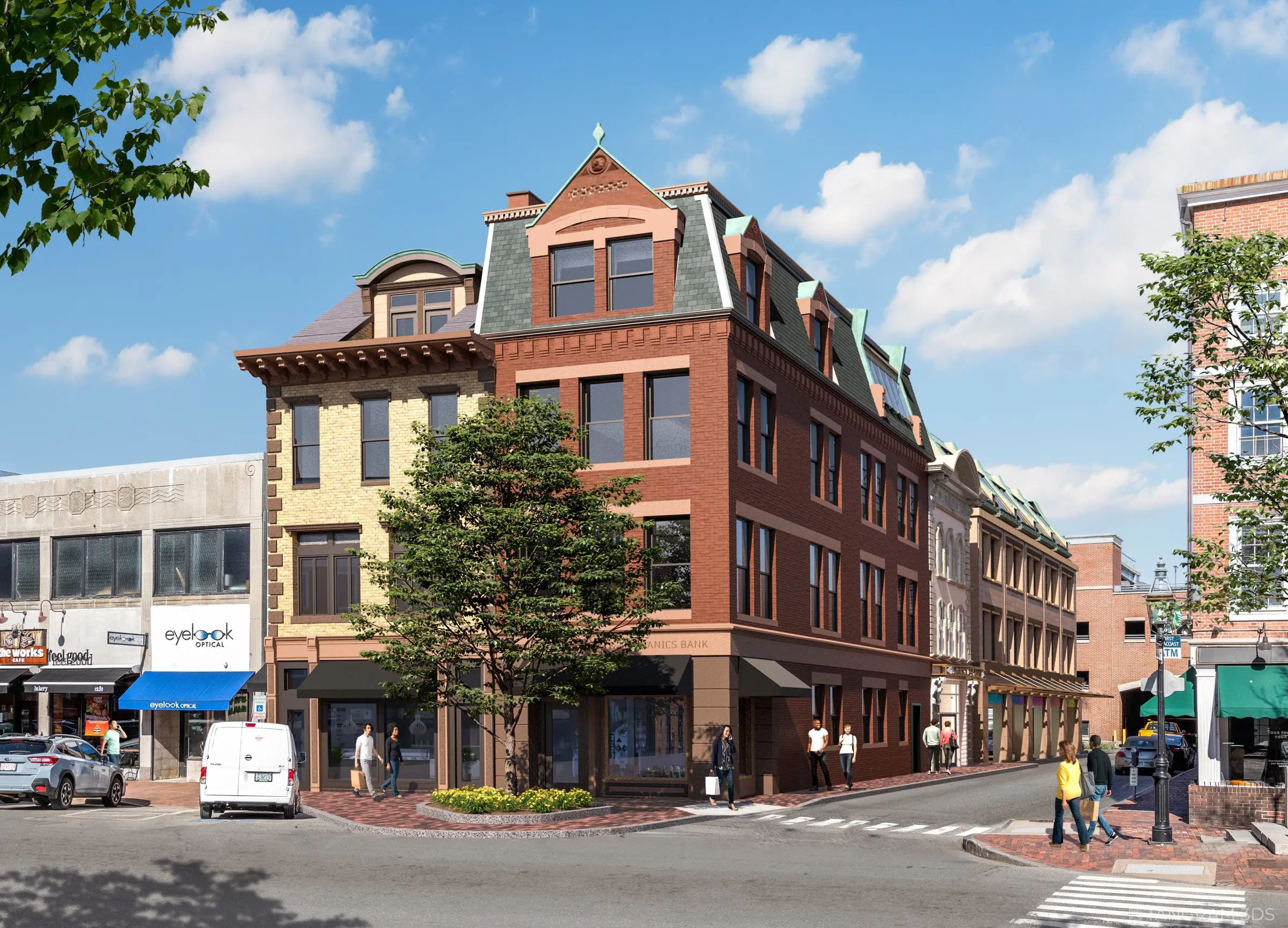 ARCove Architects Announces Entry to New Hampshire and Greater Boston Architecture Scene
Portsmouth, NH August 2022
ARCove Architects is pleased to announce that it has officially opened its doors for business. ARCove is an architecture design firm committed to the design of sustainable buildings that enhance experiences for people to thrive.
Founder and Principal, Tracy Kozak, previously of JSA Design in Portsmouth, NH, began ARCove out of a desire to focus closely on her values prioritizing sustainability and historic preservation. ARCove serves clients who seek a more resilient, useful, and lasting environment. Bringing enduring solutions and high-performance technologies together with artistry and workmanship, ARCove's designs ensure utility and delight for functional and cherished spaces that complement their surroundings.
"I'm in love with the craft of architecture," says Kozak, and her work reflects that testimony. Recent and current projects include:
1 Congress St
This historic rehabilitation of three significant late 19th century buildings in downtown Portsmouth, NH provides urban wayfinding connections through the design concept of "time as shaped by light". Visual cues continue the essential character of this unique historic street, by focusing views with texture and reflection to the iconic historic North Church Steeple Clock, which dominantly presides over these edifices. The project will provide restaurant and boutique hotel space with the rehabilitation of three significant late 19th century buildings and a new three-story addition,
underground parking, and revitalized pedestrian ways. Existing buildings will undergo deep energy retrofits with passive and active energy reduction strategies employed in the new addition.
Fishmongers Cottage
A resilient, passive-building net zero home designed for a coastal flood zone provides a communal setting for a fishing industry family along the shoreline docks and boats. Positioned to capture on-site solar and geothermal energy while mitigating flood impacts, the design utilizes high-performance envelope and mechanical systems to enhance passive survivability in an area seeing increasing wind and storm surge events. Two porches bookend the shared living spaces – one at the street front, to engage neighbors and bolster community; and one at the back to enjoy the private gardens with native plantings which stabilize the soils and improve storm water retention. A roof deck provides a visual connection to the lobster boats which define the neighborhood and support the family's three generation business. These features coalesce with a refreshed reference to the neighboring fishing village shingle style and Queen Anne vernaculars.
60 Penhallow Street at Brick Market
Nestled in downtown Portsmouth, NH, this mixed-use building provides four stories of commercial office and restaurant use with two levels of underground parking. The design, conceptualized and managed by Kozak during her tenure at JSA Design, newly interprets themes of local maritime history through the use of timber boat building techniques and artisan coppersmithing. The structure
and building envelope are designed to reduce energy usage by 50% over code minimum, and reduce embodied carbon through use of mass timber. A network of connected pedestrian spaces integrates public art with sculptures, murals, poetry and performance spaces. Artistic themes weaving intrinsically throughout the building and site include local history and women's empowerment. The central courtyard features a "Ruth Bader Ginsburg Fountain" and an "Impact Wall" sculpture that expand the outdoor space. The office space opens for business in August 2022, with the highly anticipated Hearth Food Garden debut in early winter.
Mont Vernon Town Hall
ARCove's architectural historic expertise informed a comprehensive historic assessment and Feasibility Report for the restoration and preservation of the Mont Vernon Town Hall (also known as the Old Meeting House), which sits atop a prominent hill in the center of a classic New Hampshire village. Starting in April, 1781 each farm in the community contributed timber for the construction of a meeting house. Various major additions, repairs after fires, and two centuries of heavy use and weather took a toll on the building. This assessment report surveys the existing conditions, analyzes life safety and accessibility codes, with cost and scheduling options to stabilize the structure, optimize comfort, and enhance usefulness and safety of the structure for the centuries to come. Used as a next-steps road map for further community programming and fundraising, the report ensures purposeful use and stewardship to continue this building's prominent legacy.
Kozak's professional involvement outside of the workplace is extensive. She is a past president of AIA New Hampshire, former vice chair of the Portsmouth Historic District Commission, board director emeritus of the New Hampshire Preservation Alliance, and is the current chairman of New Hampshire's AIA-COTE and Environmental Guild committee. Her work and community involvement earned her an award as one of six Outstanding Women in Business by New Hampshire Business Review in 2020.
"I am thrilled to lead the way for ARCove to offer specialized historic and sustainable design expertise," Kozak says. "Every building tells the story of our shared human experience and I look forward to ARCove's role in ensuring the quality and enjoyment of our journeys together."
About ARCove Architects
Founded in 2020, ARCove Architects is an architectural firm focused on high-performance sustainability and historic preservation. ARCove Architects is a collaborative, flexible, and design-centric work environment situated in Portsmouth's historic downtown Market Square. The firm accepts commercial, mixed-use, and residential projects.